Campanio is a space newly born in city Esaka of Osaka prefecture with a co-working space/cafe/restaurant/hotel etc. As the name means "bread sharing friends" in Latin, it positions itself as a space that accelerates business by having the members connect and collaborate through their businesses. 
At campanio, a communicator resides as a hub to promote communication among members. We adopted a mechanism that campanio members can easily connect by business through this communicator. As mutually beneficial members are connected to each other, the possibility of business widens more vastly and a strong community is nurtured, which will further develop business. Also, to solve the various problems that may arise in business, tax accountants, labor consultants, and lawyers are casually available for advice. 
Currently, campanio is aiming to create a new business of the next generation and human resource development for such purpose. 
Enhanced Inc. took part in campanio's concept design, VI construction, and spacial design direction.


campanioは、大阪府江坂に新しく誕生したコワーキングスペース/カフェ/レストラン/ホテル等を併設した空間である。ラテン語で「パンを分け合う仲間たち」を意味し、会員同士がビジネスで繋がり共創することでビジネスを加速させていく空間という位置づけである。
campanioには、会員同士のコミュニケーション促進させるハブとしてコミュニケータが常駐。このコミュニケータを介してcampanio会員同士がビジネスで繋がりやすい仕組みを採用した。相互に有益な会員同士が繋がることでビジネスの可能性はより大きく広がり強いコミュニティが育まれる。それがさらにビジネスを育てていく。また、ビジネス上起こりうる様々な課題解決のために、税理士、社労士、弁護士にも気軽に相談できる体制となっている。
現在campanioでは、次世代を担う新しいビジネスの創造、および、その人材育成を目指しており海外への事業展開も計画されている。
At campanio's cafe space, you can also enjoy original specialty coffee, beer, and snacks. Delicious coffee and beer also serve as a key for communication to enhance the conversation. Space is also arranged to facilitate mutual communication.
campanioのカフェスペースでは、オリジナルのスペシャリティコーヒーやビール、軽食も楽しめる。美味しいコーヒーやビールは会話をはずませるためのコミュニケーションのキーとしても機能する。カフェスペースも相互にコミュニケーションを取りやすい配置としている。
Campanio's logo and the pattern is structured with concentric circles that motifs connection and community.
campanioのロゴおよびパターンは、繋がりやコミュニティをモチーフとした同一円のグリッドで構成されている。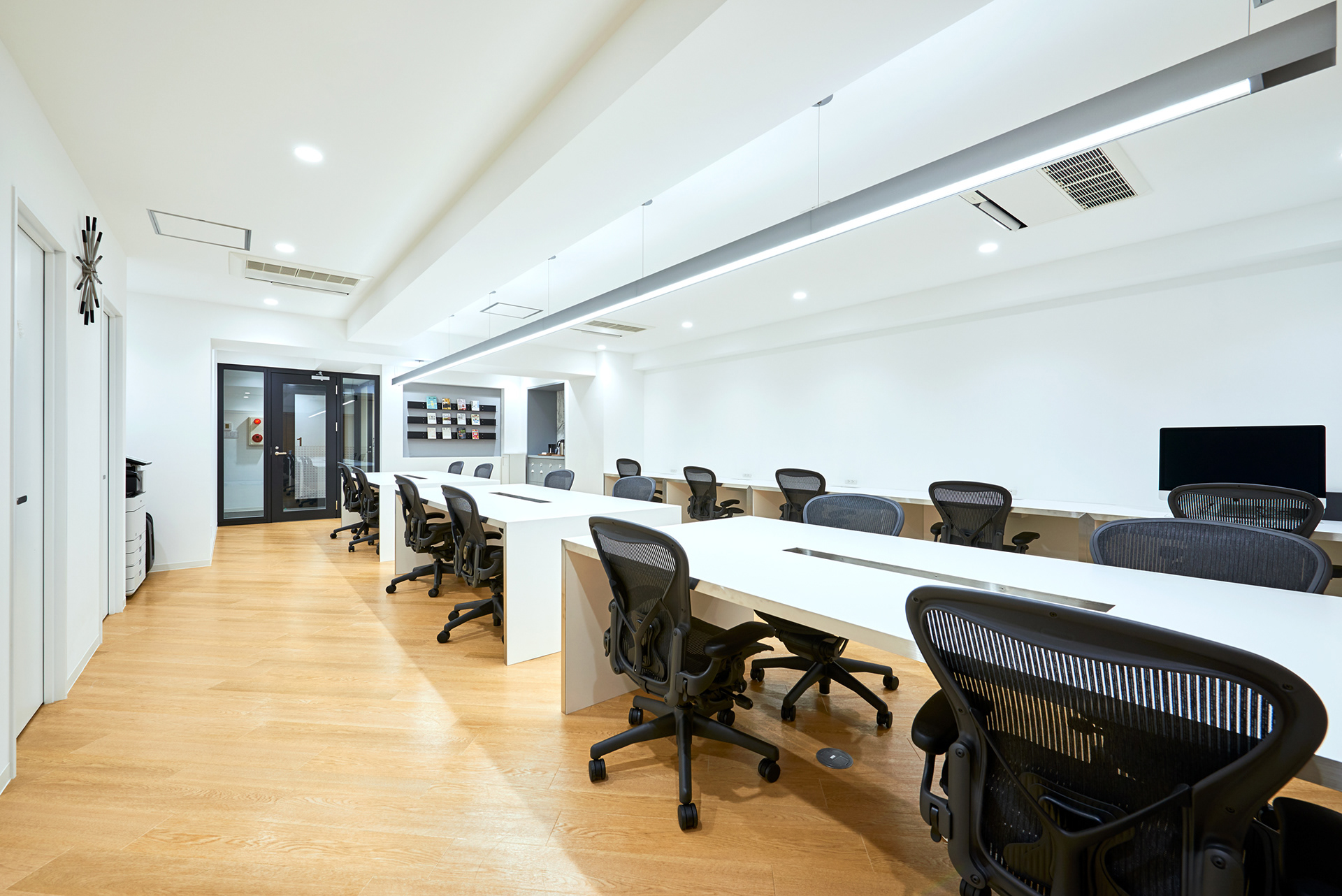 For each shop to be developed in the future, specific patterns will be set, but all patterns will be based on the common circle grid that forms the logo.
This circle grid is a traditional Japanese pattern called Shippou Monyou (Cloisonne pattern) and was used since the ancient times in the Nara period. Shippou in Buddhism represents gold, silver, lapis, glass, shaked shellfish, coral, and agate, meaning treasure of the world. It is a Kissho pattern, showing the chain reaction from one circle to another that expresses peace, harmony, and encounters. For venture and startup companies, relationships and communication between people are very important and valuable elements just like the above-mentioned Shippou. The circle grid used in the logo and the patterns represents such importance.
今後展開される予定の各店舗ごとに固有パターンが設定されるが、すべてのパターンはロゴを形成したグリッドと共通の円グリッドから形成される。
この円グリッドは、七宝文様と呼ばれる日本の伝統文様であり古くは奈良時代から使用されていた。七宝とは、仏教用語で金・銀・瑠璃・玻璃・しゃこ貝・珊瑚・瑪瑙のことであり、世界中の財宝を意味する。ひとつの円が連鎖し繋がっていくことで円満・和・縁を表す吉祥紋である。ベンチャーやスタートアップにとって人と人の関わりやコミュニケーションは非常に重要な要素であり前述の七宝と等しい価値あるものと言える。ロゴやパターンで使用されているこの円グリッドはそれを表している。